The Kitty Peeper® Cat Window Patio for Up and Down Windows!


Our Kitty Peeper Cat Window patio fits into your window like an air conditioner, and will give your special feline a three-sided view of the outdoor world, where it can feel the breeze, sniff the air, and survey the surroundings in complete safety and comfort.

Ready to go right out of the box!
Can be quickly installed and removed!
Offers your pet a safe alternative to actually going outdoors!

See a video of our Kitty Peeper window enclosures in action! (click here)


Each unit is constructed by hand from start to finish.

Frame is constructed of light-weight, high strength material specifically designed for outdoor use.

(more)

Built to resist water and UV deterioration for years of use.

Uses reinforced high quality pet-safe screening.

(more)

Simple, adjustable securing tabs will accommodate nearly all window pane thicknesses.

Our standard models offer Flexible see-through flaps allow your pet easy in-and-out access to the patio, even along a narrow window sill, while also diminishing air flow back into the room.

(more)

We also have a deluxe large model with a plexiglass front and cat door, perfect for extremely cold environments.

(more)READ ABOUT THE DIFFERENT ENTRYWAY OPTIONS HERE

Mounting is quick and easy. NO DRILLING OR

SPECIAL TOOLS REQUIRED!!

(more)

Each unit features easily adjustable side panels to accommodate a wide variety of window widths. (see specific size information below)

(more)

Read our detailed FAQ here
---
OUR PATIOS FIT INTO SINGLE OR DOUBLE-HUNG (up and down) WINDOWS ONLY!
(See sizing information below)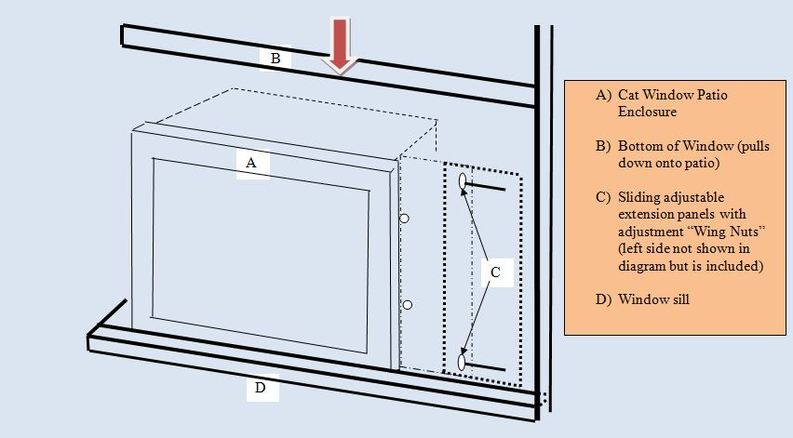 Sizing Information (just follow the green instructions)
MEASURING YOUR WINDOW COULDN'T BE EASIER!

Measure your window frame as shown in the diagram.
Once you have this measurement (Inches) refer to our sizing chart
here
Next, simply go to our order page
here
.
It's that easy!
---
If you have a window opening that is at least 25 inches wide, we recommend the large size Kitty Peeper, as it utilizes more of the open window space.

NOTE: Sizes noted on the right show the minimum window opening width needed to install the unit. (see sizing chart here). Both sizes are 12 inches in height, and 13 inches deep.

EACH UNIT COMES WITH ADJUSTABLE SIDE PANELS. so that each model will actually fit a range of window sizes. Our standard side panels expand to fit a minimum and maximum range of widths for each unit
(see sizing chart here).
A customizable side panel kit with additional expandable panels is available to maximize the side panel extensions for our small and large units (see order page here).






Small (regular model.18 inches wide, with a minimum window opening width of 19 inches needed)
Model KP01-18 $183.00
____________________________________________

Large (regular model 24 inches wide, with a minimum window opening width of 25 inches needed)
Model KP01-24 $198.00

Deluxe (Plexiglass entryway with cat door, 24 inches wide, with a minimum window opening width of 25 inches needed.)
Model KPDeluxe-24 $271.09